Award-winning service and effective financial advice
Pinnacle associates showed that they are living out the company's expanded vision to be the best financial services firm in the Southeast. Through independent third-party research and our own client satisfaction surveys, we have statistical proof that we excel in meeting clients' needs and creating an experience they just can't get at other financial services firms.
Awards from Greenwich Associates
Pinnacle smashed our own record by earning Greenwich Excellence Awards in 30 categories. Only one bank in the entire country won more, and no bank in the Southeast even came close. The increase over last year's total of eight is due to the fact that, for the first time, we were eligible in every category. Awards like these validate what we've known for years: our distinctive service is among the best in the country.
Greenwich Associates is the foremost provider of market research for commercial banks. Earlier in the year, they honored Pinnacle with four Greenwich Best Brand Awards for Ease of Doing Business and Trust in small business and middle market banking. The awards are evidence of the confidence clients have in our bank and of the competitive distinction we hold over the large regionals with whom we compete in every market.
30
Greenwich
Excellence
Awards
Pinnacle earned 30 Greenwich Excellence Awards, triple our previous amount and second-most of any bank in the country.
Our new Shallowford Road office in Chattanooga, Tennessee welcomes its first client. The office opened for business on July 20, 2017.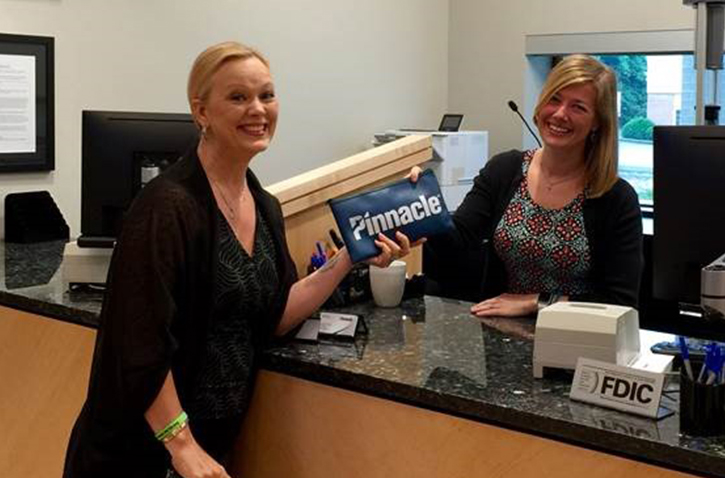 High Scores on Client Satisfaction Surveys
We view awards from independent third parties as a validating measure of success. But continuous improvement comes from data we collect directly from clients. For our annual survey of clients with high-value relationships, we are thrilled to report that 94.7 percent of respondents agree that "Pinnacle is recognizably better than its competition." Among clients who opened new accounts, 98.9 percent called us better than our competitors. We relaunched a transaction survey in 2017, and 98.8 percent of the respondents said their experience in our office made them look forward to coming back.
Key Strategies for Engaging Our Clients
The results of our client satisfaction surveys confirm that we're on the right track with the business strategies we've pursued since the firm's founding:
Focus primarily on businesses, their owners and employees, as well as consumers who desire more from their banking relationship than just the best price.
Hire and retain highly experienced and qualified financial services professionals.
Provide distinctive service, effective advice and extraordinary convenience in exchange for premium pricing.